Azure Purewater Marketing Sdn.Bhd.
541, Jalan Mersing,
Kluang Baru,
86000 Kluang,
Johor, Malaysia.

07-7728868 / 7742868

07-7768878

Branch:
Lot No. 1-65, Tingkat 1,
Kluang Mall,
86000 Kluang,
Johor, Malaysia.
07-7763878
azurepurewater@yahoo.co.uk
RO System New Model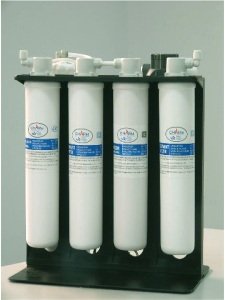 5-stage RO system under counter

1st Filter : Charm Sediment Filter

2nd Filter : Charm Carbon Filter

3rd Filter : Charm Sediment Filter

4th Filter : Charm Taste & Odor Removal Filter

5th Filter : RO Membrance - Filmtec 50 GPD

Standard accessories :

Auto flush,include automatic flush controller,booster pump,transformer,solenoid valve,low and high pressure,3.2 Gal steel storage tank.

Water-in valve, tri-way socket, 1/4" PE tube, ceramic long reached faucet, 3" plastic wrench

Remarks :

Minimum salt rejection : over 95%
Max. operation temperature : 40 C

~ With easy twist Filter,it is no water spill or mess during installation or replacement.