Azure Purewater Marketing Sdn.Bhd.
541, Jalan Mersing,
Kluang Baru,
86000 Kluang,
Johor, Malaysia.

07-7728868 / 7742868

07-7768878

Branch:
Lot No. 1-65, Tingkat 1,
Kluang Mall,
86000 Kluang,
Johor, Malaysia.
07-7763878
azurepurewater@yahoo.co.uk
CTC Double Filter
Housing Filter --- Portable Water Purifier System ---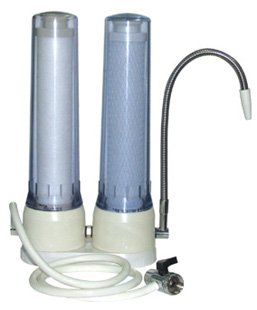 10" Double Filtration System - CTC 1000
Ceramic Filter
0.3 & 0.9 micron filtration. consist of highly compressed ceramic diatom. Stop the propagation of bacteria, germs and viruses. Filtert for dirt, solids and dangerous bacteria such as typhoid, cholera, bilharzia & amoebas.
Activated Carbon Filter
Remove chlorine, THMs, organic chemicals and unpleasant odors and color. The end result is pure, crystal clear mineral water.