Azure Purewater Marketing Sdn.Bhd.
541, Jalan Mersing,
Kluang Baru,
86000 Kluang,
Johor, Malaysia.

07-7728868 / 7742868

07-7768878

Branch:
Lot No. 1-65, Tingkat 1,
Kluang Mall,
86000 Kluang,
Johor, Malaysia.
07-7763878
azurepurewater@yahoo.co.uk
Stainless Steel Superthin Filter
Housing Filter --- Portable Water Purifier System ---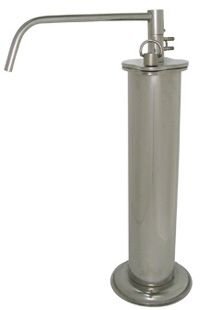 10" Stainless Steel Super Thin Water Filter
Specifications
Stainless steel water filter with ceramic cartridge.
It can be applicable to filtrate cold water with high pressure proof
Corrosion proof
The Ceramic Filter being a Micro-Filter enables to block and remove invisible floating substances or foreign substances of minute particles through very minute pore of 0.2-0.5 micron.
Since Ceramic Filter water through its surface, its color gets brown and dirty gradually if being used for some days. When it becomes too discolored, wiping with a scrubber, a sponge or rough clothes can remove dirts as it is somewhat worn away.
Function: Removing rust stains, fine earth powder, sendiments, other solid foreign substances etc.